01-16-2008
The Literary Detective has moved out!

I found canal blog too much restraining to do what i wanted, so now you can find The Literary Detective over at blogspot : http://theliterarydetective.blogspot.com/
01-10-2008
1. How did you come across your favorite author(s)? Recommended by a friend? Stumbled across at a bookstore? A book given to you as a gift?
2. Was it love at first sight? Or did the love affair evolve over a long acquainta

Well, the problem is that I have a lot of favorite authors;o)
* First, I discovered Salinger through a french rock band, maybe you know them, Indochine. I've been a great fan since my teenage. And they have a song called Des Fleurs pour Salinger (Flowers for Salinger), about a man who lives in a monastery. In fact, the singer, who also writes the songs is a literary man, and their songs contain a lot of literary references. In this song, he quotes a passage from The Catcher in the Rye. And as I like reading, it made me curious about the all thing. And that's how I discovered Salinger.
* Then, there is Armistead Maupin. With him it was a coincidence. I happened to be in a bookshop, and there were his Tales of the city on a table. It was the first pocket edition in France. So I bought the first volume, ad then it became a great love story. But with Maupin, I only love the Tales of the City. I couldn't manage to read his other books, and I don't know why.
* Diana Wynne Jones was introduced to me by Hayao Miyazaki, with his film Howl's Moving Castle. So I read the book and loved it, and then a friend offered me Charmed life, the first volume of The Worlds of Chrestomanci. Unfortunately, I haven't read anything else from DWJ, but I'm going to, really.
* I first met Stephenie Meyer on the french blogosphere, and first, I thought 'hmm sounds good, maybe some day'. And then I read the Twilight series, and regretted instantly to have waited this long;o)

I'll only take these four, but I could find a lot of others;o) Well, to answer the second question, I'd say that with me it's always love at first sight. Indeed, if I don't like a first book of an author, most of the time I won't go towards another book of this author, so...

To find Booking Through Thursday, this way!
01-06-2008
Last week we talked about the books you liked best from 2007. So this week, what with it being a new year, and all, we're looking forward….
What new books are you looking forward to most in 2008? Something new being published this year? Something you got as a gift for the holidays? Anything in particular that you're planning to read in 2008 that you're looking forward to? A classic, or maybe a best-seller from 2007 that you're waiting to appear in paperback?
Well indeed there is ONE book i'm really waiting for in 2008, it is Breaking Dawn by Stephenie Meyer, the fourth volume in the Twilight series. I'm really really impatient, well I have to wait till fall...It'll be very long I think, but there are other books i'm waiting for, like the 6th volume of the Twelve Kingdoms by Fuyumi Ono (French Edition), Nana 18 by Ai Yazawa (french edition) and Hana-Kimi 21 By Hisaya Nakajo (I should receive it in a few dasy, but really i'm burning with impatience;o) And also, Heaven's Net is Wide, the 5th volume of The Clan of the Otori by Lian Hearn, I haven't bought it yet, but soon!

And also i'm excited by my choices for my challenges, so i'm really looking forward to read them;o)
To find Booking Through Thursday, this way!
01-01-2008


I wish you all a Happy New Year! I hope that 2008 will help realize all your wishes and that it'll bring a lot of good surprises for you : happinesse, joy and luck!
And I really hope that this year will also bring wisdom and goodness to Humankind so that we're done with all that cruelty!
12-29-2007
The Fray - Members :
* Isaac Slade - Voice and piano
* Joe King - Guitar and voice
* Dave Welsh - Guitar
* Jimmy Stofer - Bass
* Ben Wysocki - Drums

The Fray - Bio :
The Fray was born in 2002 in Denver, Colorado with the leaders Isaac Slade and Joe King. The same year, the band was declared Best New Band by Denver's Westword Magazine, and they became the top one best-sellers in record dealers. In 2005, they sign with Epic Release and released their first album How to save a life. Their success was extended thanks to TV series using their songs, such as Scrubs or Grey's Anatomy.

To know more about The Fray :
http://www.thefray.net
http://www.myspace.com/thefrayforum


Discographie :

* Movement (EP) - 2002
* Reason (EP) - 2003
* How to save a life - 2005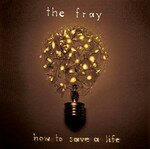 1. She is 2. Over my head (cable car) 3. How to save a life 4. All at once 5. Fall away 6. Heaven Forbid

7. Look after you 8. Hundred 9. Vienna 10. Dead Wrong 11. Little House 12. Trust me

The Fray is a very good rock band, able to give us a very electric sound as well as a much calmer sound, marked with a good dose of piano, and all that in the same song. The lyrics are on the same level, a lot of love, separation, regrets, but finally those are the most beautiful songs, those we like to listen to, aren't they. Well, me, at least;o) But The Fray is not only the music and the lyrics, it's also a voice, Isaac Slade's voice, which makes me dream. When I hear it, I go far away, and I have small butterflies in my stomach. A voice which is very lightly broken, gentle. What else can I say, a voice like that, it makes me dream and that's all I'm asking for;o)



My favorite song : Heaven Forbid




Twenty Years it's breaking
You down, now that you
understand there's no one around
Take a breath, just take a seat, you're
falling apart and tearing at the seams

Heaven forbid you end up
alone and don't know why
Hold on tight wait for
tomorrow, you'll be alright

It's on your face, is it on your mind,
would you care to
build a house of your own
How much longer,
how long can you wait,
It's like you wanted to go
and give yourself away

Heaven forbid you end up
alone and don't know why
Hold on tight wait for tomorrow,
you'll be alright

It feels good, Is that reason enough for you
It feels good, Is that reason enough for you

Heaven forbid you end up
alone and don't know why
Hold on tight wait for tomorrow
you'll be alright

Out of this one
Don't know how to get you out of this one
Don't know how to get you out of this one
Don't know how to get you out of this one
Don't know how to get you out of this one
12-27-2007
It's an old question, but a good one . . . What were your favorite books this year?
List as many as you like … fiction, non-fiction, mystery, romance, science-fiction, business, travel, cookbooks … whatever the category. But, really, we're all dying to know. What books were the highlight of your reading year in 2007?

Well, that's a tough one, there were so many :

- The Top One is Stephenie Meyer's series Twilight, the most fabulous of the year
- The Harsh Cry of the Heron by Lian Hearn : I was delighted to find out what became of Kaede and Takeo, I re-read all the series, and I was also very sad at the end, but it was fabulous
- The Twelve Kingdoms by Fuyumi Ono : Great Fantasy
- Uglies Series by Scott Westerfeld : really great, interesting, and made me think, and I really like books that can make me think;o)
- One For Sorrow : Christopher Barzak : A great debut novel
- Thirteen Little Blue Envelopes by Maureen Johnson : An initiation travel.
- Elsewhere by Gabrielle Zevin : A very nice conception of life after life
- Three Bags Full by Leonie Swan : Miss Maple is a great detective;o)
- Benny and Shrimp - Katarina Mazetti : A complicated love story

And there was also a certain number of books that I read for the second time this year, and that I will always love :

- The Worlds of Chrestomanci by Diana Wynne Jones : Unimitable, magical
- Anne of Green Gables Series by Lucy Maud Montgomery : wonderful, delightful
- His Dark Materials by Philip Pullman : A very good moment with Lyra and Will
- Harry Potter by J.K. Rowling : I re-read all of them and that was great to have an overview from the beginning. Things take a different meaning when you already know what will happen
- Hanazakari No Kimitachi E by Hisaya Nakajo : A really great manga series
- Nana by Ai Yazawa : My favorite manga, along with Paradise Kiss
- Fruits Basket by Natsuki Takaya : My second favorite manga;o)

Well I'm sure there are others, but i'll say that those are the main highlights of my 2007;o)

To find Booking Through Thursday, this way!
12-26-2007
I decided to create my own personal challenge, because at the moment, well since I discovered Stephenie Meyer's Series Twilight, I really want to read books about vampires, werewolves, and also witches. A few years ago, I was addicted to this genre, but as time passed I grew more open-minded in my readings, but at the moment, I'm kind of subject to nostalgia, so here is my Dark Side List :

- Blue Bloods : Masquerade - Melissa de la Cruz
- Peeps - Scott Westerfeld
- Eden City : Bienvenue en Enfer (French : Welcome to Hell) - N.M. Zimmermann
- The Gardella Vampire Chronicles : The Rest Falls Away - Colleen Gleason
- Interview with the Vampire - Anne Rice
- A Modern Faerie Tale : Tithe - Holly Black
- Dracula - Bram Stoker
- Bitten - Kelley Armstrong
- The Ballad of Kirin Widowmaker : Blood Magic - Matthew Cook
- I am Legend - Richard Matheson
- Par le sang du démon - Virginia Schilli (French)
- Season of the Witch - Natasha Mostert

If you want to join me in this challenge, feel welcome to leave a comment, with a link to your own list;o)

I've found out that a TBR Challenge was organised by MizBooks and decided that it would be a good way to cross some books in my TBR list, so here is my list for the 2008 TBR Challenge :

- Tideland - Mitch Cullin
- Stardust - Neil Gaiman
- A Long Way Down - Nick Hornby
- The Wonderful Adventures of Nils Holgersson through Sweden - Selma Lagerlöf
- Laisse-moi te raconter...les chemins de la vie - Jorge Bucay (Let me tell you...the ways of life)
- Looking For Alaska - John Green
- Just in Case - Meg Rosoff
- Sixty Million Frenchmen can't be wrong - Jean-Benoît Nadeau and Julie Barlow
- Pobby and Dingan - Ben Rice
- Jane Eyre - Charlotte Brontë
- The Miracle Life of Edgar Mint - Brady Udall
- The Merlin Conspiracy - Diana Wynne Jones

My Alternates are :

- Emma - Jane Austen
- The Poe Shadow - Matthew Pearl
- Fragile Things - Neil Gaiman
- Castle in the Air - Diana Wynne Jones
- La Théorie des Nuages - Stéphane Audéguy (French)
- American Desert - Percival Everett
- Kafka on the Shore - Haruki Murakami
- Neuromancer - William Gibson
- Oniria - Patrick Sénécal
- A Spot of Bother - Mark Haddon
- Big Fish - Daniel Wallace
- The Great Gatsby - Fitzgerald
- A Midsummer Night's Dream - Shakespeare

Well, you know what would be great? It's if I managed to read all the books in the official list, and all the alternates;o)

There is a big difference between the french and the english speaking blogosphere. French prefer Swaps, whereas english speakers prefer Challenges. For 2007, I was in for the ABC Challenge that consisted in choosing one author for each letter of the alphabet. I decided to travel around the world with books and I chose one country for each letter of the alphabet. Well I started the journey in Finland and I stayed there : only one book of my 2007 list is crossed;o)

And I discovered several small challenges, and said why not, I can at least try. So I chose The First in a Series Challenge, organised by Joy, because I am a serial reader. So here's my selection :

- Midnighters : The Secret Hour - Scott Westerfeld
- Septimus Heap : Magyk - Angie Sage
- Millenium : Les Hommes qui n'aimaient pas les femmes - Stieg Larsson (not translated in english yet : 'Men who didn't like women)
- Discworld : The Colour of Magic - Terry Pratchett
- The Dark is Rising : Over Sea, Under Stone - Susan Cooper
- The Chronicles of Narnia : The Magician's Nephew - C.S. Lewis
- The Children of The Red King : Midnight for Charlie Bone - Jenny Nimmo
- Le Cycle des Dieux : Nous, les Dieux - Bernard Werber ( author of Empire of the Ants, but the God Series has not been translated in english yet)
- Thursday Next : The Eyre Affair - Jasper Fforde
- The Spiderwick Chronicles : The Field Guide - Holly Black
- The Blue Rose Trilogy : Koko - Peter Straub
- The Mayfait Witches : The Witching Hour - Anne Rice

So here is my list, and I really hope that for 2008 I'll be serious to see the end this challenge and also the others;o)

12-24-2007
I wish you all a very merry Christmas, and I hope that Santa Claus's sledge will be loaded for you all tonight and that you'll wake up with many good things waiting for you before the Christmas Tree;o)

Have a nice evening and again Joyeux Noël!

eh a little french Christmas song here