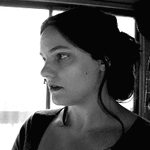 Biography : Catherynne M. Venlente was born in 1979, in Seattle, WA and grew up in Northern California. She graduated from high school at 15, and went ti the University in San Diego and Edinburgh where she studied Classics and Ancient Greek Linguistics. Then she went to live in Japan for a few years.
She received the James Tiptree Jr. Award for The Orphan's Tales : In the Night Garden, and has been nominated for the World Fantasy Award.

She currently lives in Ohio with her family.
Catherynne M; Valente website and The Orphan's Tales website : where the story ends, the magic begins

Bibliography :

* Novels : The Labyrinth (2004); Yume No Hon : The Book of Dreams (2005); The Grass-Cutting Sword (2006)
The Orphan's Tales Series : In the Night Garden (2006); In the Cities of Coin and Spice (2007)

* Poetry : Music of a Proto-Suicide (2004); Apocrypha (2005); Oracles : A Pilgrimage (2006)
Descent Series : The Descent of Inanna (2006)

* Essays : The Ice Puzzle (2004); Introduction to Jane Eyre (2007)



Genre : Tales - Adults

American publisher : Bantam Spectra : 14$US, 18,95$CAN, 6,77£

Synopsis : " Secreted away in a garden, a lonely girl spins stories to warm a curious prince : peculiar feats and unspeakable fates that loop through each other and back again to meet in the tapestry of her voice. Inked on her eyelids, each twisting, tattooed tale is a piece in the puzzle of the girl's own hidden history. And what tales she tells! Tales of shape-shifting witches and wild horse-women, heron kings and beast princesses, snake gods, dog monks, and living stars - each story more strange and fantastic than the one that came before. From ill - tempered "mermaid" to fastidious Beast, nothing is ever quite what it seems in these ever-shifting tales - even, and especially, their teller. Adorned with illustrations by the legendary Michael Kaluta, Valente's enchanting lyrical fantasy offers a breathtaking reinvention of the untold myths and dark fairy tales that shape our dreams. And just when you think you've come to the end, you realize the adventure has only begun..."

A passage :
" Once there was a child whose face was like the new moon shining on cypress trees and the feathers of waterbirds. She was a strange child, full of secrets. She would sit alone in the great Palace Garden on winter nights, pressing her hands into the snow and watching it melt under the heat. She wore a crown of garlic greens and wisteria; she drank from the silver fountains studded with lapis; she ate cold pears under a canopy of pines on rainy afternoons.
Now this child had a strange and wonderful birthmark, in that her eyelids and the flesh around her eyes were stained a deep indigo-black, like ink pooled in china pots. It gave her the mysterious, taciturn look of an owl on ivory rafters, or a raccoon drinking from swift-flowing river. It colored her eyes such that when she was grown she would never have to smoke her eyelashes with kohl.
For this mark she was feared, and from her earliest days, the girl was abandoned to wander the Garden around the many-towered Palace. Her parents regarded her with trepidation and terror, wondering if her deformity reflected poorly on their virtue. The other nobles firmly believed she was a demon, sent to destroy the glittering court. Their children, who often roamed the Garden like a flock of wild geese, kept away from her, lest she curse them with her terrible powers. The Sultan could not decide - after all, is she were a demon, it would not do to offend her infernal kin by doing away with her like so much cut grass. In the end, all preferred that she simply remain silent and far away, so that none would have to confront the dilemma."


---
The Orphan's Tales : In the Night Garden is a really good book, but very difficult to apprehend. It's a great mise en abyme. The girl tells the story of a Prince who tells how he meets a witch who tells him how her grandmother told her...
At first, as I was reading it by small bits (in the bus, at lunch...), when I would return to it, I was kind of lost about who was talking now. Then I got used to it and managed to enjot my reading. I found the vocabulary and the writing style quite difficult to understand sometimes, it is very poetical, it is not unpleasant, only a little complicated for someone who is French like me and whose is english is very good but not perfect. I hope it will be released in France very soon, so that I can read it again in French and finally understands the few points I'm sure I missed.
I truly recommand this book, if you like fairy tales, because that's what it is. And I really admire Catherynne M. Valente for her work de mise en abyme, that's very splendid, and all along I was wondering how she managed not to get lost;o)